In her article, "The Call to Disciple Others," Norma J. Goldman reminds readers, "The imperatives of the Great Commission in Matthew 28:19-20 are marching orders for followers of Christ, but there is often a tendency to focus more on bringing people to saving faith in Christ than on making disciples of those already saved. The result is evangelical churches of all denominations filled with immature believers."
Norma hit the proverbial "nail on the head." And so the December-January 2015 issue of ONE Magazine is dedicated to discipleship, from the newest disciple beginning his or her journey with Christ to the veteran of the faith.
Take a Walk Through History
What do you really know about Free Will Baptists? Perhaps you have heard the word Baptist all your life without stopping to consider where the name came from. Maybe you didn't realize there are dozens of Baptist groups: Missionary Baptists, Primitive Baptists, American Baptists, Independent Baptists, General Baptists, Regular Baptists, and more.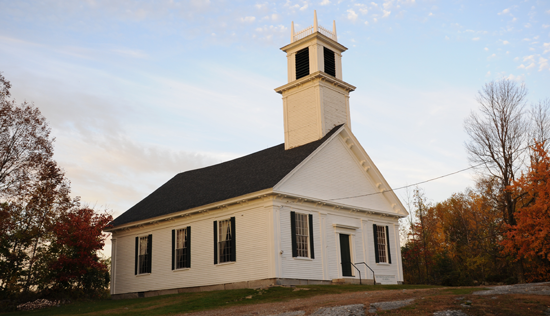 Photo: Built in 1819-21, the Church on the Ridge is an iconic structure. The oldest standing Free Will Baptist church structure in the North, it was built by the congregation in New Durham, New Hampshire.
And why would one group of Baptists add "Free Will" to the front of their name? How are they different from more than 20 other Baptist groups? The Free Will Baptists in the South began in 1727, making this one of the oldest Baptist groups in the United States. For more than 250 years, Free Will Baptist churches have contributed to the moral and spiritual fibre of our nation. Would you like to know more?
Visit www.FWBHistory.com to access a wide collection of books, ranging in topic from general history to biographies, early doctrine, and more. For a quick look at Free Will Baptist history, read The Free Will Baptist Experience.