December-
January 2018
Discipleship: Fruit
Bearing Fruit
------------------
ONE Magazine represents
the following
Free Will Baptist organizations: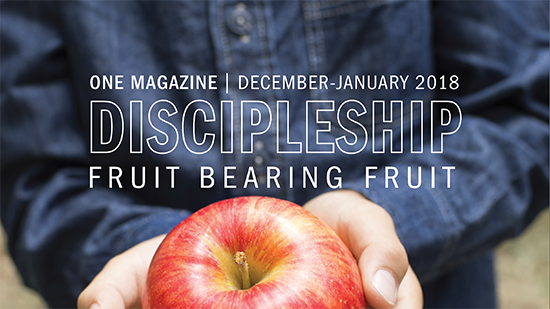 As the first issue of 2018 explores the theme of discipleship, it does so with a new look! A complete magazine redesign offers easier-reading fonts, reformatted columns, revised news pages—even a new cover masthead. Enjoy the new look and feel of ONE in the glow of the Christmas lights...with a steaming cup of hot cocoa.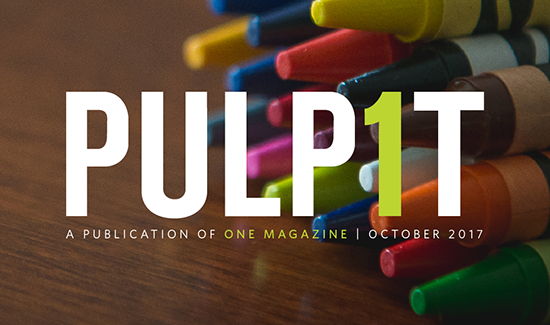 PULP1T Magazine Now Available
The first issue of PULP1T magazineis now available. Pastoring is never an easy job, and PULP1T is designed to encourage, support, and equip pastors ministering in a complex culture.
Confronting racism: When Tom McCullough spoke on racism at the 2015 national convention, his humble call to acknowledge, confront, and discard racism for the sake of the gospel struck a chord. Free Will Baptists have a rich history of standing for the rights of the oppressed, yet it is crucial for each succeeding generation to look within, to ruthlessly root out any vestige of prejudice that would hinder the work of the gospel. // read more…

Take a Walk Through Free Will Baptist History
What do you really know about Free Will Baptists? Perhaps you have heard the word Baptist all your life without stopping to consider where the name came from. Maybe you didn't realize there are dozens of Baptist groups: Missionary Baptists, Primitive Baptists, American Baptists, Independent Baptists, General Baptists, Regular Baptists, and more.
And why would one group of Baptists add "Free Will" to the front of their name? How are they different from more than 20 other Baptist groups? The Free Will Baptists in the South began in 1727, making this one of the oldest Baptist groups in the United States. For more than 250 years, Free Will Baptist churches have contributed to the moral and spiritual fibre of our nation. Would you like to know more?
Visit www.FWBHistory.com today, a website created by the Free Will Baptist Historical Commission, that makes important Free Will Baptist historical documents available for download, including books of historical record, biographies, periodicals, minutes from the national conventions, and more. It also contains a regularly updated history blog and an ever-growing list of publically accessible Free Will Baptist history collections.