April-May 2013
The Many Faces
of Outreach
------------------
ONE Magazine represents
the following
Free Will Baptist organizations:

Outreach is not "one-size fits all." Sharing God's Word with a diverse world takes creativity, ingenuity, and patience. Most of all, it takes men and women willing to leave their comfort zone to step out in faith to share their faith. The April-May issue challenges readers to be the one who will lay aside excuses and fear to become God's ambassador.
-----------------------------
Take a Walk Through History
What do you really know about Free Will Baptists? Perhaps you have heard the word Baptist all your life without stopping to consider where the name came from. Maybe you didn't realize there are dozens of Baptist groups: Missionary Baptists, Primitive Baptists, American Baptists, Independent Baptists, General Baptists, Regular Baptists, and more.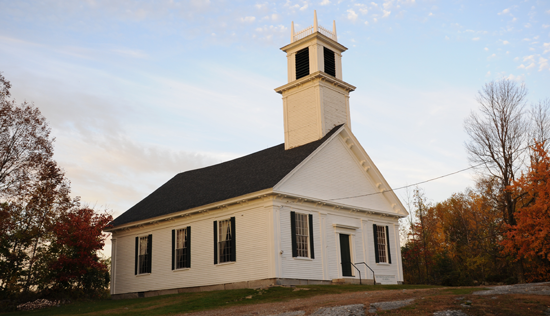 Photo: Built in 1820-21, the Church on the Ridge is an iconic structure. The oldest standing Free Will Baptist church structure, it was built by the congregation in New Durham, New Hampshire.
And why would one group of Baptists add "Free Will" to the front of their name? How are they different from more than 20 other Baptist groups? The Free Will Baptists in the South began in 1727, making this one of the oldest Baptist groups in the United States. For more than 250 years, Free Will Baptist churches have contributed to the moral and spiritual fibre of our nation. Would you like to know more?
Visit the History Resources section of the site to access a wide collection of books, ranging in topic from general history to biographies, early doctrine, and more. If you would like a quick overview of Free Will Baptist history, read The Free Will Baptist Experience.
-----------------------------
Visit the Helwys Society Forum for More Free Will Baptist History
February 2013 marked Free Will Baptist Heritage Month at the Helwys Society Forum. The online forum encourages readers to reflect on matters of Christian theology, spirituality, ministry, and culture through essay publication, with an emphasis on Arminian and Free Will Baptist theology and history. Take time to read the followhing historical profiles published by the Forum:
While at the site, learn more about Thomas Helwys and Paul Palmer and their influcence on the Free Will Baptist movement.