news around the world

Free Will Baptist International Missions serves churches, pastors, and people by helping them fulfill their role in establishing churches beyond North America so unreached peoples can know the joy of a relationship with the living God.



To find out more about the ministry of Free Will Baptist International Missions, visit www.fwbgo.com.
MORE THAN 50 PARTICIPANTS from 13 countries met October 7-12, 2007, for the fourth triennial meeting of the International Fellowship of Free Will Baptist Churches. The meeting, hosted by local French congregations, featured worship, fellowship, and business carried out in a spirit of international solidarity. Read more...
GPS-X Retreat

Lewisburg, TN International Missions made history September 20-23 when 33 students from eight states gathered for a multicultural missions weekend.
Designed to give students interested in missions (but too young to participate in E-TEAM) an outlet, Global Purpose Seekers-eXperience (GPS-X) was held at Horton Haven Christian Camp in Lewisburg, TN. Seminars focused the youth on making decisions within God's will for their lives.
Missionaries Matt and Cristina Price (France), Dale and Allysa Harvey and Heath Hubbard (Creative Access), Mitch and Rachel Donahue (Spain), and Nathan and Linda Snow (Japan) rubbed shoulders with the students, sharing their country's culture, language, and spiritual needs.
Leaders and students traveled to Nashville on Saturday and separated into four groups, encountering people of other cultures, serving, and eating ethnic foods. Project hosts Nashville Rescue Mission, Siloam Clinic, Servant Group international Ultimate Goal (soccer ministry to Hispanic children), and Paragon Mills Elementary School jolted students from their comfort zones. One group heard a young Kurdish believer's testimony of God's saving grace and protection. "These students conducted themselves with maturity," reported Judy Lytle. "They worked hard, regardless of the assignment."
Staff received positive feedback and high praise from students and adult sponsors. "A mission program for this age group is long overdue," encouraged a youth pastor. Many students asked if they could participate again next year.
GPS membership kits are available to students in grades seven, eight, and nine, even if they were unable to attend the GPS-X event. Dates for next year's GPS-X will be announced in the near future. Visit www.fwbgo.com/Go/student to request a kit or e-mail gps@fwbgo.com.
CHURCH ANNIVERSARY CELEBRATED
Colmenar Viejo, Spain The Colmenar Viejo church, led by Cuban pastor Juan Carlos Cabreras and his wife María del Carmen, celebrated its third anniversary on Sunday, September 9. The service was filled with praise for God's blessings on the small congregation. Spanish pastor José Manuel Parrón of the Esperanza Church in Alcalá brought the anniversary message. The day concluded with a fellowship time and refreshments for the 40 people in attendance.
GROWTH CONTINUES IN CAMPINAS
Campinas, Brazil Four people were baptized at the First Free Will Baptist Church in Campinas on Sunday night, September 16. Marli was saved a few months ago during an invitation given at the end of a service where Kenneth Eagleton preached. Cristiane, Marli's daughter was also baptized. Milena and Ludmila are the daughters of Martha, a faithful Bible institute student. Lucas Lima is the pastor.
A different aspect of the church's ministry is being emphasized each week at the Nova América FWB Mission Church in Campinas. On September 16 the emphasis was on discipleship and Pastor Paulo César invited Kenneth Eagleton to preach. Two men rededicated their lives. The mission church is currently meeting in a rented hall, but is in the process of acquiring two city lots on which to build.
São José Church Serves Community
Campinas, Brazil Pastor Osmír and the congregation of the São José FWB Church in Campinas, Brazil, determined to "step-up" their outreach within their neighborhood. Saturday, September 22, the church hosted a day of free services for the community.
Seminars on dental hygiene, depression, cancer prevention, and sexually transmitted diseases were held. Four barbers cut 119 heads of hair. Nurses checked glucose levels for 80 people and blood pressure for 115. Ten people obtained legal advice from two lawyers. Six people received psychological counseling. Food, donated by church members and local businesses, was distributed to the poor.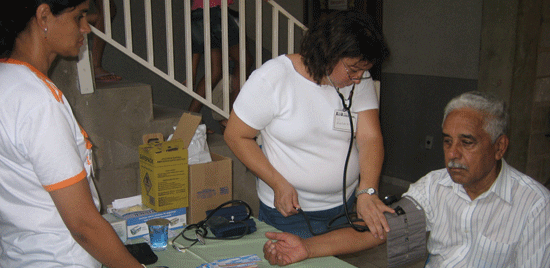 Common law marriage is prevalent in the area. The church took 13 applications from couples desiring to legalize their relationships through a joint community wedding service.
Church members provided some of the professional assistance, solicited the participation of other professionals, organized and publicized the event, served snacks, and interacted with those who took advantage of the free services.
According to Dr. Kenneth Eagleton, "The community's awareness of the church has been significantly heightened." The missionary continued, "Pray, as people see their needs met, they will realize they have spiritual needs only Christ can satisfy."
Ambassador Program Continues
Antioch, TN Eleven men have been identified as Ambassadors for the 2008 World Missions Offering (WMO). Eight of the men gathered at the National Offices in Antioch, TN, September 24-25, 2007, to celebrate the success of the 2007 WMO. Due to the Ambassadors' efforts, a record amount of $485,000 has been received for the 2007 WMO (as of September 27, 2007).
Directors Barry Simpson (development) and Mark McPeak (communications) led Ambassadors to organize and plan their travels for the 2008 WMO. These men will attend district meetings coast to coast from January to April to raise awareness of and participation in the WMO. They will invite churches and pastors to participate in the Change the World coin bank project—an innovative supplement to the WMO.
IM Ambassadors bring a wealth of ministry experience in overseas missionary service, pastoral service, and associational/denominational leadership. "We give thanks to God for these men," Barry said, "and are thrilled to have them on our team."
Selected to serve as 2008 Ambassadors are Jimmy Aldridge, Earnie Deeds, Galen Dunbar, Fred Hersey, Tom Hughes, Mark Price, Norman Richards, David Shores, Henry Van Kluyve, Fred Warner, and Rodney Yerby.