October-
November

2011
Shift: A Change of Direction
----------------------

A vision for the next generation...
Oaks of Righteousness
by Norma Jackson Goldman
In a recent sermon from Deuteronomy 4 and Isaiah 61, my pastor made a powerful and intriguing analogy that lodged in my heart. After wrestling with it for more than two weeks, I came to the conclusion that the vision must be shared. He spoke of the urgency of a generation sharing its faith with the next, using powerful images of fathers and sons, mothers and daughters, children and grandchildren who pass down their beliefs and life experiences to a generation waiting to hear.


Tell stories with the big picture in mind.
In life, we teach in bits and pieces, providing instruction and information needed for the job at hand. Both at home and church, we teach behaviors and emphasize character traits to fit specific situations. However, we must also be intentional in teaching our children and grandchildren the "big picture" Scripture provides—the great over-arching story of God's redemptive plan for the world and our role in it. A lack of this big picture may be why so many people, despite being in church and Bible study most of their lives, still do not understand God's purpose for them as individuals or their role in His plan to bring a lost world to Christ.
God laid out a beautiful plan for grandparents and parents to use in passing faith to succeeding generations in Deuteronomy 6:4-9. It begins with the most critical and essential truth: the Lord our God is one. We must communicate clearly that God and God alone is creator, sustainer, and sovereign source—past, present and future. Because of who He is, we are to love Him with all we have and all we are. His teachings, precepts, and commandments should be vital topics of everyday activity and conversation, at home or away, from morning until night.


Share unfailingly with those who have never heard.
Above all, we must share the good news of His love and concern for the poor, the brokenhearted, the captives, and those who mourn with those who have never heard. Changed by His love, He describes His children as "oaks of righteousness" who will "display His splendor" (Isaiah 61:3b).
Do your children and grandchildren, neighbors and friends know this story? Do they understand what could happen if the present generation fails to pass it to the next? The next time your family gathers to celebrate some holiday or other important occasion, use the event as an opportunity to create a powerful experience that will stay with them for the rest of their lives.


Teaching the next generation.
Three generations will gather to celebrate my grandson's graduation. We will choose a good location to plant an oak tree and read these passages from Deuteronomy and Isaiah. Each one will share a personal word about how he or she came to faith when someone shared Christ's gift of salvation made possible through His death on the cross.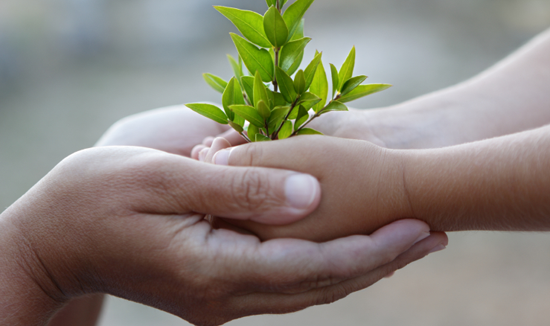 We'll place Scripture verses on a card and cover them with fresh soil as we plant the tree, symbolizing our sure foundation. We will talk about how the entire landscape will change when the oak matures, just as the "landscape" of our world changes as we mature, becoming oaks of righteousness. We'll talk about future generations who will take shelter under the oak, finding comfort and safety under its branches, just as we find comfort and safety in the shelter of God's loving presence.
As the tree grows, it will serve as a visible reminder of our faith, of the next generation, and of our opportunity to share in God's redemptive purpose for His world by telling others.
About the Writer:

Former magazine editor Norma J. Goldman enjoys a successful freelance career in her retirement. The award-winning writer lives near Nashville, TN. Learn more about retirement options at www.boardofretirement.com.