An interview with Dr. Richard Ross, founder of True Love Waits.
Parenting Playbook

Why are you so passionate about helping teenagers and their parents?

Teenagers and those who are important to them have been the focus of my entire life. I became a student minister when I was 19, and my face has been set like flint ever since. The goal of student ministry is students who, for the glory of the Father and in the power of the Spirit, spend a lifetime embracing the full supremacy of the Son, responding to His majesty in all of life, inviting Christ to live His life through them, and joining Him in making disciples among all peoples.
I am passionate about teenagers and their parents because I am passionate about the Son of God. The Father greatly desires that families join Him in making his Son more famous on the earth.
Why did you develop your Parenting Teens resource?

I have walked beside parents of teenagers for 40 years. Those who know Christ want parenting insights that are biblical and immediately applicable. But those same parents live with multiple time pressures. I knew they needed a way to see and absorb vital guidance in a time-efficient way. So, we just cut out all the fluff and gave parents concise yet powerful principles and insights.
What do you hope to accomplish with it?

Many churches are assembling parents to study Parenting Teens together. That is good news, since parents can learn from each other and leaders can create experiences that add warmth and insights to the printed page.

Many parents leave the resource in their Bibles after group study. Some want the resource handy for their morning worship, since they are using the 31 daily ways to pray for children. Others want the resource handy in case they run into difficulties related to discipline, communication, or similar issues.

Bottom line, we are praying that Parenting Teens will be one of the ways that Christ leads parents to parent well and to become the most important spiritual leaders to their own children.
What are the most important things Christian parents can do to help their children grow to follow Christ?
Praying for children every morning and through the day may be the most important thing parents can do. Children sometimes "receive not because (parents) ask not."
Praying with children frequently (Deuteronomy 6:7) may be the second most important thing. Children need to hear the depth of a parent's love for them revealed in those prayers. They need to hear how keenly a parent wants to see spiritual impact radiating out from their lives. They need to hear a parent release them to God's call and purposes.

Talking about biblical truth and a parent's own spiritual life in the flow of family life, day-in and day-out (Deuteronomy 6: 7) may be the third most important thing. The wise parent says things similar to "I've been looking forward to breakfast, because I want to tell you what the Holy Spirit showed me in Scripture this morning." Or, "The truth of that sermon hit me hard today. Son, you need to know what I committed to God at the close of the service."

Modeling faith, morality, and values before children may be the fourth most important thing parents can do. We all have seen great movies that were based on a story. To use an analogy, the Bible is the story, and a parent's life is the movie based on that narrative of Scripture.
Children and teenagers need to know the Bible, but they also need to see the truths of Scripture lived out on the parental "wide screen," right in front of them.


You talk about "heart connection" between parents and teens. Explain that concept.

Relationships are central to making a spiritual impact on children. Children and teenagers tend to embrace parents' faith if parents have heart connections with them.

A heart connection is the "pipeline" that connects the hearts of parent and child. Through that pipeline spiritual impact flows from one generation to the next. Parents who keep that heart connection warm and strong usually see visible evidence that their faith and values are passing to their children. "And he shall turn (connect) the hearts of the fathers to the children, and the hearts of the children to their fathers, lest I come and strike the earth with a curse" (Malachi 4:6, parenthesis added).

If a parent and teenager grow distant from each other, the probability is the parent will have little spiritual impact, even if the parent teaches biblical truth and lives out that truth before the teenager. Teenagers tend to reject truth when it comes from someone with whom they have a cold relationship.
How important to a teenager is his or her parent's marriage? Why?

Teenagers tend to embrace the faith of parents in a warm, lifetime marriage. Children and teenagers tend to embrace the faith of parents who surround them with emotional security. Believing the marriage of parents will last is a primary source of that emotional security. Questioning whether the marriage will last robs children of that security. That is one of many reasons God hates divorce (Malachi 2:16).
In this instance, it does not matter whether parents think their marriage will make it. The children come to their own conclusions. When they hear muffled shouts coming from the master bedroom, or they detect icy stares between parents at dinner, or they see touching and flirting become rare, they make their own evaluation about whether the marriage will make it. If teenagers decide the marriage is not well, their emotional security vaporizes, and their behavior becomes consistent with insecurity.

Parents who have been wounded by a spouse may no longer feel motivation to rebuild romance from the perspective of his or her own needs. But kingdom parents find the motivation to rebuild what has been lost for the glory of Christ and for the good of their children.

When parents are warm and appropriately affectionate toward their spouse in front of the teenager, they take a giant step toward rearing offspring who will embrace the supremacy of Christ.
What are some practical ways parents can encourage spiritual growth in their teens?

Parents can gather the family (Deuteronomy 6:7) for a time of worship, weekly or more often. In addition to prayer and praise, parents can lead a discussion from Scripture built around what they are learning from their own daily time in God's Word. The overflow of a parent's spiritual life is valuable to children and teenagers. Or, parents might use a printed family worship guide church leaders have placed in their hands. Or they might share what they learned from last Sunday's sermon or adult Bible study group.

Monthly or more often, parents can lead the family to do something to serve others in Christ's name. Families can plan some of these outings to address injustice, spiritual poverty, or needs that already have touched the heart of a child or teenager. When families engage in serving others on a regular basis, teenagers form indelible mental snapshots that what matters most is not their temporary fulfillment, but Christ and His mission of redemptive love to others.

Once a year or so, families can go with Christ on missions adventures away from home. Parents may need to partner with church leaders to become knowledgeable about opportunities for families. Some families can consider arranging family finances in order to take a family mission trip in the U.S. or internationally–either their family alone or with other families. Other families can consider giving one day of a typical family vacation to do something of kingdom importance (feed people in the name of Christ, paint a ministry building, etc.).
About the Writer:

Richard Ross is husband to LaJuana and dad to Clayton. He served as youth minister for 30 years and now volunteers with teenagers and parents at Wedgwood Baptist Church in Fort Worth, Texas. Richard is professor to the next generation of youth ministers at Southwestern Seminary.
More about Parenting Teens
Even atheists want their teens to grow up to be financially stable, part of happy families, and solid citizens. What do you want that is so different?"
With that provocative question, Parenting Teens (Randall House, 2009) introduces a timely challenge to Christian parents.

Dr. Richard Ross (founder of True Love Waits and See You at the Pole) and David Booth have created a resource for parents that shares wise counsel about a variety of topics in an easily accessible format. The laminated foldout resource is designed to fit in a Bible or purse and provide quick access to vital parenting information.

In a concise 14 pages, Ross and Booth answer some "big picture" parenting concepts like the true measure of success, the biblical role of parents, and the power of relationship. Yet, they also address specifics like "How do I lead my teen to Christ?" and "How should I pray for my teen?"

Drawing on decades of youth ministry and parenting experience, the authors urge parents to examine their own walk with the Lord, consider what God wants to do through their teen, and take intentional steps to help their teens to become more Christlike and plug into God's mission in this world.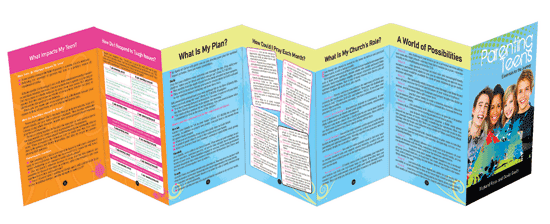 One inspiring feature of Parenting Teens is the authors' challenge to dream about the possible outcome of taking certain parenting actions with intriguing "what if" statements. For example: "What if you invited the most significant adults in your teen's life to assemble to speak blessings to him or her near high school graduation."

Parenting Teens is not a magic potion that will turn turbulent teen years into smooth sailing. It will, however, open your eyes to parenting in ways that produce eternal dividends. In fact, it may whet the appetite for making the teen years more than just a phase to be survived but a divine opportunity for personal and spiritual growth, for teens and parents alike. At just $3.99, it is a worthwhile investment for yourself and for the parents in your church.
To order, call 800-877-7030 or visit D6family.com/store.