RAZOR WIRE CHURCH

by Lila Thompson

Find out more about the ministry of Free Will Baptist Bible College at www.fwbbc.edu.
I am probably the least likely person to be involved in prison ministry. You see, my sister-in-law was murdered by a paroled criminal who had already killed three people. Watching my brother struggle to raise three young children and seeing the life-long effects of their mother's death on them left a bitter taste in my mouth.
I wanted all criminals to face the maximum punishment allowed by law with no pardons or paroles possible. I felt that prisoners should suffer the full consequences of their actions and be given no mercy. I didn't view criminals as individuals who were lost and in need of a Savior. I've since had to ask forgiveness for my attitude.
Hugged by a Child Molester
My attitude toward prisoners began changing after my church (Cross Timbers Free Will Baptist Church in Nashville, Tennessee) started collecting candy bars for prisoners' gifts. I had the opportunity to make frequent visits to prison with Chaplain Wellborn and helped organize distribution of our gifts. On two occasions, my husband Ernie and I distributed gifts to prisoners at Riverbend Maximum Security Prison.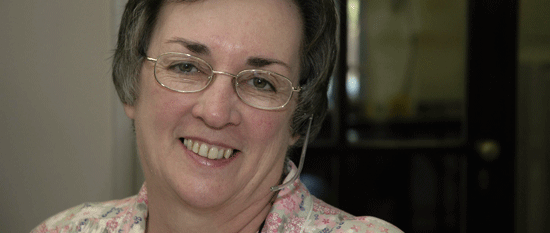 Above: Lila Thompson, photo Sean Warren
It is hard to describe the apprehensive feeling while being searched and escorted through locked gates. After clearing the first checkpoint, we were guided through a second checkpoint, then on to the chapel where we mingled with low-security prisoners and waited for other volunteers to join us.
During this time, we talked openly with the inmates. I never thought I would shake hands with someone who had murdered and dismembered a man in a jealous rage, or receive a warm hug from a man imprisoned for child molestation. But you see, those two men along with countless others have been changed by the power of Jesus Christ in their lives.
Christmas Behind Locked Doors
Volunteers were divided into small groups and taken to various buildings on the prison grounds. We passed through many locked gates and came to an open area surrounded by high fences topped with razor wire. The guards led us to Building 3 where prisoners are kept in individual cells 23 hours a day—allowed out only to exercise in a cage-like enclosure once a day.
Many of these inmates have no contact with the outside world, except when volunteers come during the holidays.
Two large grocery bags of gifts were placed before each cell, and we were allowed to shake hands through the pie-hole (a 6" x 12" opening through which their food trays are passed). We opened the bags and passed the Christmas gifts through the opening. We could talk to the prisoners only during the time we were passing gifts through the pie-hole. We visited four sections or wings of Building 3 and spoke with four different men.

Reaching America's Discards
Let me tell you about one of the prisoners I met. His name is James, and he had a picture of a four-year-old girl taped to his cell window. He was not married to the girl's mother and would not be allowed to see her during his incarceration. He said that was his worst punishment—not being able to see his daughter.
James appeared to be quite young, as did most of the prisoners—perhaps in his early 20s. I don't know his crime, but I do know his regrets and that he will be in prison for another 10 years.
It is difficult for me to imagine life without anyone to give you a hug or to tell you that you are loved. Hundreds of men like James are locked away with no contact with the outside world. Their families have disowned them, society has washed its hands of them, and it seems that the Christian community has also forgotten them with an out-of-sight-out of-mind attitude.
We must change our way of thinking as Jesus said in Matthew 25:39-40, "Or when saw we thee sick, or in prison, and came unto thee? And the King shall answer and say unto them, Verily I say unto you, Inasmuch as ye have done it unto one of the least of these my brethren, you have done it unto me."
ABOUT THE WRITER: Mrs. Lila Thompson is the receptionist at Free Will Baptist Bible College. She and her husband Ernie are members of Cross Timbers FWB Church in Nashville, TN.

what is involved in Prisoner Mentoring?
For the past two years, Ernie Thompson (pictured below) has maintained a weekly mentoring ministry with one of the inmates at Riverbend Maximum Security Prison. He meets with the 60-year-old man in the prison chapel on Wednesdays after he gets off work at FWBBC where he serves as cleaning operations supervisor.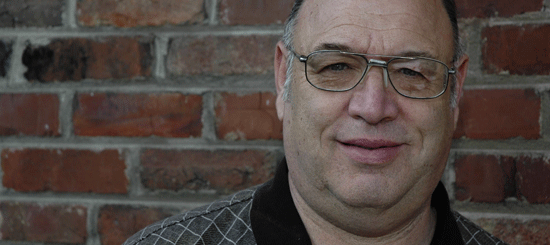 Ernie and the prisoner visit for an hour, talk, pray, and discuss spiritual and personal matters. Then Ernie drives to Cross Timbers FWB Church for prayer meeting. On the way, he grabs a sandwich for himself and his wife Lila who is already at church, because she works part-time as the church secretary.
Once a month on Sunday afternoon, Ernie drives to a town 30 minutes from Nashville, picks up the 90-year-old, wheel-chair bound father of the prisoner he mentors, and takes the elderly man to visit his son in prison. This usually takes about four hours to transport the father, clear security twice in and out of prison, and still allow an hour for father and son to visit.
Ernie was ordained as a Free Will Baptist deacon at Hazel Creek FWB Church in Kirksville, Missouri, before he and Lila moved to Tennessee. He now serves as an usher and trustee at Cross Timbers FWB Church.