the spirit and the flame

The Story of Free Will Baptist Bible College Continues...

by Jack Williams

Learn more about Free Will Baptist Bible College at www.fwbbc.edu.
TO CASUAL OBSERVERS who see the five words Free Will Baptist Bible College or who drive past the tree-lined campus, FWBBC may be nothing more than nine acres and 17 buildings, and they wonder why eyes mist over at the mention of an educational institution barely 65 years old.
To them, Free Will Baptist Bible College is simply a two-block rectangle crowded onto Nashville's storied Mansion Row, a place of manicured lawns with aging campus structures that speak of early 20th century architecture and a by-gone era.
If they think about it at all, they remember FWBBC as an exit on the I-440 beltway, a quaint landmark on West End Avenue, or a solemn academic community where young men sport neckties and ladies wear dresses to class.
But there's more, so much more. Let me explain.



Yesterday's Legacy
Free Will Baptist Bible College is an idea, an idea that began in November 1935 with a vote to appoint an education committee as a fractured and scattered denomination came together to organize the National Association of Free Will Baptists.
Free Will Baptist Bible College is a dream that began while bombs exploded and cultures and philosophies clashed in the madness of World War II. The dream found life in one building, one man (a 28-year-old president), and eight students who against all odds formed a Christian community of faith and learning in September 1942.
From that quiet launch, more than 6,000 alumni have left footprints on every continent as they pastor churches, staff far-flung mission fields, teach in Christian schools, Sunday Schools, and public schools; serve as military chaplains, operate businesses, hold public office, carry badges in law enforcement, boost the nation's workforce, influence local congregations, and shine the light in dark places.
Free Will Baptist Bible College is people. It's alumni like Carlisle Hanna pushing into Northern India with the gospel and Lee Whaley starting a church in Alaska's frozen northland. It's Roger Reeds building a Sunday School Department, Wade Jernigan church planting in Idaho, and LaVerne Miley carving out a hospital in Africa. But it's also thousands of younger alumni who keep the flame burning in Chicago and Green Bay, in Kazakstan and Bulgaria.

Today's Reality
The face of Free Will Baptist Bible College today is crowded classrooms and aging buildings filled with modern technology and eager students who can hardly wait to graduate and impact the world.
The eight students of 1942 are now 400-plus students from 25 states and five foreign countries. The one building on Richland Avenue has grown to 17 buildings. That 28-year-old president retired and finished his course. FWBBC is now led by its fifth president, a broad-shouldered visionary with the same hungry mind and original fire that compelled L.C. Johnson to exchange the pastorate for a classroom.
Today's students circle the globe on short-term mission trips. They use the Internet as a research tool; they experience life earlier and more intensely. They're more internationally aware than previous generations. They arrive on campus drenched in the celebrity worship of postmodern culture searching for something better, something that they heard exists in a place called Free Will Baptist Bible College.
They rediscover the idea, believe in the dream, and learn about the people who created yesterday's legacy. Somewhere amid the rigor of academic requirements, the intense relationships where iron sharpens iron, and those splendid days of prayer when Heaven comes down on campus, one by one they find their calling and make their way to duty stations around the world.

Tomorrow's Promise
The shining promise of Free Will Baptist Bible College tomorrow is a firm grasp on traditional Bible-centeredcurriculum that produces pastors and missionaries, chaplains and teachers, youth workers and musicians, as well as expanding programs of study that respond to the growing interest in science and health sciences, biology, and nursing.
Tomorrow's promise points toward master's level studies in ministry, theology, and education. It includes practical online learning, international studies, adult education, a new generation of faculty members with specialized and advanced degrees, and new ways of telling the old, old story.
Part of the centerpiece for tomorrow's promise is relocating from this comfortable neighborhood of mansions and tall trees to a bold, new campus with more space, room for athletic fields and parking, with buildings designed for collegiate activities and engineered to harness the best in modern technology. The process is slow, the cost high, the demands staggering. But it must be done, and we must start now.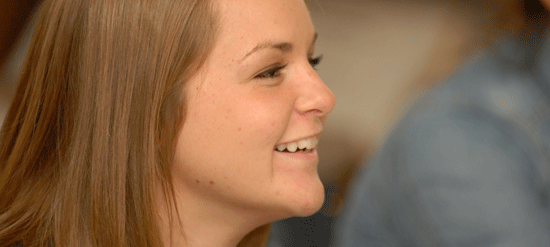 Bridge to the Future
President Matt Pinson told the faculty and staff as the 2007-2008 academic year began, "We are serious about growth. We are serious about expanding our programs of study. We are serious about long-term solutions. We are serious about relocation. But we're also serious about being patient and waiting on God."
Dr. Pinson's observation is a reminder of the college's early history. During the seven long years between the 1935 vote appointing an education committee to investigate starting a college and the 1942 opening, the spirit never wavered, the flame never failed.
The spirit and the flame from FWBBC's early days drive the vision to build on yesterday's legacy while facing today's reality and reaching for tomorrow's promise.
The first verse of the college's alma mater ends with the words, "God's truth learned here and friendship dear will ne'er from us depart."
There's a fresh wind blowing across the Free Will Baptist educational landscape. Tomorrow's leaders are training today at Free Will Baptist Bible College. It's a name they trust, and so can you. Come, join us in this family of old friends and new ideas.
ABOUT THE WRITER: Jack Williams is director of communications at Free Will Baptist Bible College.